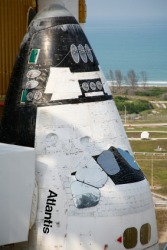 One of NASA's space shuttles.
abbreviation
NASA is defined as an acronym for the National Aeronautics and Space Administration, the federal agency that is responsible for

aerospace

research,

aeronautics

, and the civilian space program.

An example of NASA is the federal agency that built and operated the space shuttles from 1981 through 2012.
---
NASA
National Aeronautics and Space Administration
---
NASA
abbreviation
National Aeronautics and Space Administration
---