noun
The definition of a microphone is something you talk into that magnifies your voice or makes it louder.

An example of microphone is something a singer sings into so people in the back row can hear him.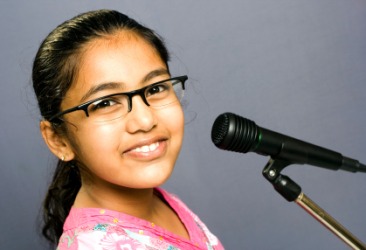 A girl about to speak into a microphone.
---
microphone definition by Webster's New World
noun
an instrument containing a transducer that converts the mechanical energy of sound waves into an electric signal, used in telephony, radio, sound amplification, etc.
Origin: micro- plush -phone
Webster's New World College Dictionary Copyright © 2010 by Wiley Publishing, Inc., Cleveland, Ohio. Used by arrangement with John Wiley & Sons, Inc.
---
microphone definition by American Heritage Dictionary
noun
An instrument that converts sound waves into an electric current, usually fed into an amplifier, a recorder, or a broadcast transmitter.
Related Forms:
The American Heritage® Dictionary of the English Language, 4th edition Copyright © 2010 by Houghton Mifflin Harcourt Publishing Company. Published by Houghton Mifflin Harcourt Publishing Company. All rights reserved.
---
microphone - Computer Definition
A device containing a transducer for converting sound waves into electrical signals that can then be amplified, transmitted, and output through a speaker. See also speaker and transducer.
A device that converts sound waves into analogous electrical waves. Usually called a "mike," it contains a flexible diaphragm composed of film or foil that vibrates as it makes contact with the sound. The diaphragm movement modulates an electrical current by various methods. In a carbon mike, used in telephones for more than a hundred years, the diaphragm alters the pressure in carbon grains, changing its resistance. Condenser Microphones In a condenser mike, also called an "electrostatic mike" or "capacitor mike," the diaphragm changes the capacitance between itself and a metal plate, both acting as electrodes. The widely used electret mike has a charged dielectric between the electrodes that generates voltage. Crystal and Dynamic Microphones Crystal microphones use a piezoelectric diaphragm that produces voltage when subjected to the sound waves (mechanical pressure). Dynamic mikes, which are like speakers in reverse, use a diaphragm attached to a movable coil that generates voltage as air moves the coil between the poles of a magnet.