magnolia
mag·no·lia
---
magnolia
⌂
any of a genus (Magnolia) of trees or shrubs of the magnolia family, with large, fragrant flowers of white, pink, or purple
the flower
Origin of magnolia
ModL, after P.
Magnol
(1638-1715), French botanist
designating a family (Magnoliaceae, order Magnoliales) of dicotyledonous trees, shrubs, and, sometimes, vines, including the cucumber tree and the tulip tree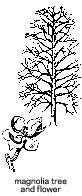 ---
magnolia
noun
Any of numerous evergreen or deciduous trees and shrubs of the genus Magnolia of the Western Hemisphere and Asia, having large, showy, often fragrant white, pink, purple, or yellow flowers, and widely cultivated as ornamentals.
The flower of any of these plants.
Origin of magnolia
New Latin
Magnolia
,
genus name
, after Pierre
Magnol
,
(1638–1715), French botanist
.
magnolia
southern magnolia
Magnolia grandiflora
---
magnolia
---