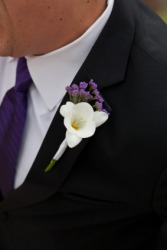 A man with a flower in his lapel.
---
lapel
noun
either of the front parts of a coat, jacket, etc. folded back on the chest, forming a continuation of the collar
Origin of lapel
diminutive of lap
---
lapel
noun
The part of a garment, such as a coat or jacket, that is an extension of the collar and folds back against the breast.
Origin of lapel
From
lap
1
.
Related Forms:
la·peled′, la·pelled′

adjective
---
lapel
Noun
(plural lapels)
Each of the two triangular pieces of cloth on a suit which are folded back below the throat, leaving a triangular opening between.
Origin
From lap +"Ž -el ("diminutive suffix").
---