flag day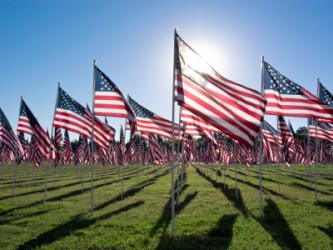 In honor of Flag Day in the United States.
---
flag day
☆
June 14, anniversary of the day in 1777 when the U.S. flag was adopted
in England, any day when people give to some special fund for charity and get small flags in token of their contribution
---
flag day
noun
June 14, observed in the United States in commemoration of the adoption in 1777 of the official US flag.
---
flag day
Proper noun
A day commemorating the adoption of a national flag.

(Australia) September 3, for the first flying of the Australian flag in 1901, Australian National Flag Day.
(Canada) February 15, for the inauguration of the Canadian flag in 1965, National Flag of Canada Day.
---
flag day
Variant of Flag Day
☆
June 14, anniversary of the day in 1777 when the U.S. flag was adopted
in England, any day when people give to some special fund for charity and get small flags in token of their contribution