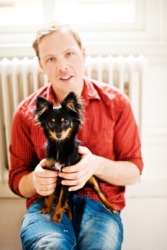 A man holding a lap dog.
---
lap dog
noun
any pet dog small enough to be held in the lap
a fawning or submissive person
---
lap dog
noun
A small dog kept as a pet.
Informal One eager to do another's bidding, especially in order to maintain a position of privilege or favor: "a bunch of intellectual lap dogs for anybody who holds a big job in government" (Mike Barnicle).
---
lap dog
Noun
(plural lap dogs)
A small dog, kept as household pet, whose light weight and companionable temperament make it both suited and disposed to spend time resting in the comfort of its master's lap; a dog bred to behave in this manner.
(idiomatic, by extension) A person who behaves in a servile manner, such as a sycophantic employee or a fawning lover.
Noun
(plural lap-dogs)
Alternative form of lap dog.
---