laboratory

lab·o·ra·to·ry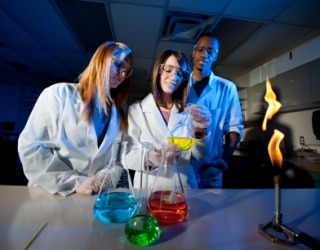 College students performing an experiment in a laboratory.
noun
The definition of a laboratory is a place where experiments and testing are done.

A room in a university where science experiments are performed is an example of a laboratory.
---
laboratory
noun
pl.
-·ries
a room, building, etc. for scientific experimentation or research
a place for preparing chemicals, drugs, etc.
a place where theories, techniques, and methods, as in education or social studies, are tested, analyzed, demonstrated, etc.
a room, often containing special equipment and materials, in which students work to enhance skills, remedy deficiencies, etc. in a particular subject, as a foreign language
a class period during which students perform experiments or work in a laboratory
Origin of laboratory
Medieval Latin
laboratorium
from Classical Latin
laborare
: see labor, intransitive verb
of or performed in, or as in, a laboratory
---
laboratory
noun
pl.
lab·o·ra·to·ries
a. A room or building equipped for scientific experimentation or research.

b. An academic period devoted to work or study in such a place.

A place where drugs and chemicals are manufactured.
A place for practice, observation, or testing.
Origin of laboratory
Medieval Latin
labōrātōrium
from
Latin
labōrāre
to labor
from
labor
labor
---
laboratory

Origin
From Medieval Latin laboratorium
---