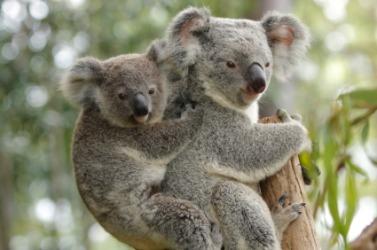 A koala mother and baby.
---
koala
noun
an Australian, tailless, tree-dwelling animal that is the only species (Phascolarctos cinereus) of a family (Phascolarticidae) of marsupials with thick, gray fur, sharp claws, and large, tufted ears: it resembles a small bear and feeds exclusively on eucalyptus leaves and buds
Origin of koala
; from
kūlla,
native name in Australia
---
koala
noun
An arboreal Australian marsupial (Phascolarctos cinereus) that has dense grayish fur, large ears, and sharp claws and feeds chiefly on the leaves of eucalyptus trees.
Origin of koala
Probably from misreading of earlier
coola, koolah
, from Dharuk
gula, gulawany
.
koala
Phascolarctos cinereus
---
koala
---