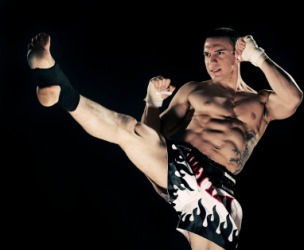 A kickboxing fighter.
---
kickboxing
noun
a martial art incorporating the techniques of karate and boxing
---
kickboxing
noun
A martial art in which competitors wear boxing gloves and throw punches as in boxing and kick with their bare feet as in karate.
Related Forms:
kickboxing
---
kickboxing
Noun
(uncountable)
(martial arts) A hybrid martial art derived from Muay Thai, karate and boxing during the 1960s to 1970s; more generally, any stand-up combat sport that combines kicks and punches.

The Japanese kickboxing gym, recently opened in the Thai capital, had been a great success (Black Belt Magazine, March 1973, p. 13)
Origin
A 1960s compound of kicking + boxing. Possibly coined as a Japanese anglicism (和製英語), キックボクシング kikkubokushingu by Osamu Noguchi.
---