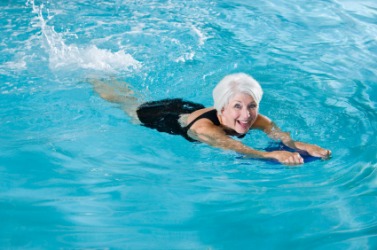 A woman using a kickboard.
---
kickboard
noun
a floating board used in swimming, usually by a beginner, to assist in keeping the head up while practicing the flutter kick
---
kickboard
noun
A buoyant board used to keep the upper body of a swimmer afloat while allowing free movement of the legs, used chiefly to improve kicking technique or develop leg strength and endurance.
A freestanding wall, usually made of wood and having the dimensions of a soccer goal, used typically by one or two players to practice kicking, trapping, and shooting the ball.
kickboard
---
kickboard
Noun
(plural kickboards)
A small, buoyant board used to support a swimmer's upper body and arms while allowing free kicking movements.

The introductory swimming instructor carried a pile of kickboards to the pool for the children.

On pianos and organs, a vertical panel located above the pedals.

A mouse had gnawed a hole through the kickboard to nest inside the organ; she refused to use the pedals nearby.
---