kabuki
[kä bo̵̅o̅′kē, kə-]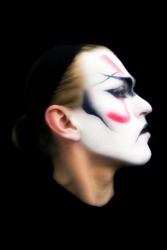 A Kabuki actor.
---
kabuki definition by Webster's New World
noun
a form of Japanese drama dating from the 17th cent.: it is based on popular themes, with male and female roles performed by men only, chiefly in formalized pantomime, dance, and song
Origin: Japanese nominal form of kabuku, to be divergent, to deviate: in reference, refer to the early evaluation of this drama form
Webster's New World College Dictionary Copyright © 2010 by Wiley Publishing, Inc., Cleveland, Ohio. Used by arrangement with John Wiley & Sons, Inc.
---
kabuki definition by American Heritage Dictionary
noun
A type of popular Japanese drama, evolved from the older No theater, in which elaborately costumed performers, nowadays men only, use stylized movements, dances, and songs in order to enact tragedies and comedies.
Origin: Japanese, art of singing and dancing : ka, singing (from Middle Chinese) + bu, dancing (from Middle Chinese muə, wuə) + ki, art, artist (from Middle Chinese giɁ, khi).
kabuki
Variant of Kabuki
noun
a form of Japanese drama dating from the 17th cent.: it is based on popular themes, with male and female roles performed by men only, chiefly in formalized pantomime, dance, and song
Origin: Japanese nominal form of kabuku, to be divergent, to deviate: in reference, refer to the early evaluation of this drama form