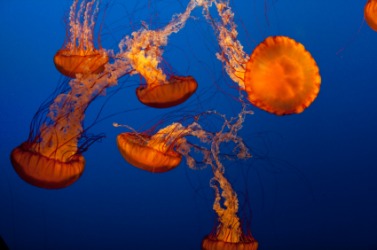 A group of jellyfish.
---
jellyfish
noun
pl. jellyfish, jellyfishes
any of various free-swimming, mostly marine cnidarians (esp. class Scyphozoa) with a body made up largely of jellylike substance and shaped like an umbrella: it has long, hanging tentacles with stinging cells on them

Informal

a weak-willed person
---
jellyfish
noun
pl.
jellyfish
jellyfish
or
jel·ly·fish·es
a. Any of numerous usually free-swimming marine cnidarians of the class Scyphozoa, characteristically having a gelatinous, tentacled, often bell-shaped medusa stage as the dominant phase of its life cycle. Also called true jellyfish.

b. Any of various similar or related cnidarians.

Informal One who lacks force of character; a weakling.
jellyfish
compass jellyfish
Chrysaora hysoscella
---
jellyfish
Noun
(plural jellyfish or jellyfishes)
(zoology) An almost transparent aquatic being; any one of the acalephs, especially one of the larger species, having a jellylike appearance.

A cnidarian, a member of the phylum Cnidaria.

A scyphozoan, a member of the class Scyphozoa (the true jellies).

A ctenophore, a member of the phylum Ctenophora (the comb jellies).
---
jellyfish
Variant of jellyfish
noun
pl. jellyfish, jellyfishes
any of various free-swimming, mostly marine cnidarians (esp. class Scyphozoa) with a body made up largely of jellylike substance and shaped like an umbrella: it has long, hanging tentacles with stinging cells on them

Informal

a weak-willed person