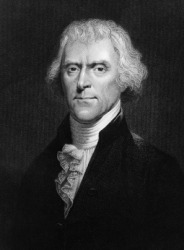 A portrait of Thomas Jefferson.
---
Jefferson
Jefferson, Thomas 1743-1826; Am. statesman: 3d president of the U.S. (1801-09): drew up the Declaration of Independence
---
Jefferson
Proper noun
An English patronymic surname​.
Thomas Jefferson (1743-1826); the third President of the United States, principal author of the US Declaration of Independence (1776), and one of the most influential founders of the United States.
Noun
(plural Jeffersons)
(slang, US) A two-dollar bill.
---