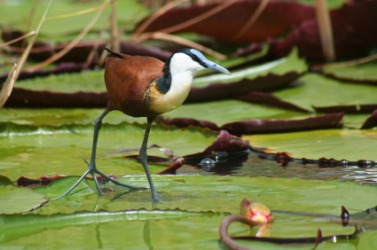 A jacana walking on water lilies.
---
jacana definition by Webster's New World
or jacana
noun
any of a family (Jacanidae) of tropical and subtropical shorebirds with long toes that enable them to walk on the floating leaves of water plants; esp., a species (Jacana spinosa) native to Mexico
Origin: Portuguese ; from Tupí jasana
Webster's New World College Dictionary Copyright © 2010 by Wiley Publishing, Inc., Cleveland, Ohio. Used by arrangement with John Wiley & Sons, Inc.
---
jacana definition by American Heritage Dictionary
also ja·ca·na
noun
Any of several tropical water birds of the family Jacanidae, having long toes adapted for walking on floating vegetation. Also called lily-trotter.
Origin: Portuguese jaçanã, from Tupi jaçanam, jaçanã, one that cries out.
jacana
Variant of jaçana
or jacana
noun
any of a family (Jacanidae) of tropical and subtropical shorebirds with long toes that enable them to walk on the floating leaves of water plants; esp., a species (Jacana spinosa) native to Mexico
Origin: Portuguese ; from Tupí jasana