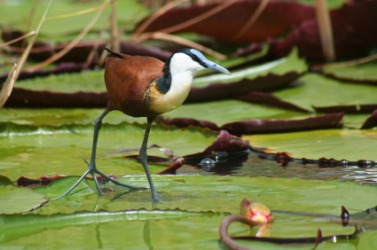 A jacana walking on water lilies.
---
jacana
or jacana
noun
any of a family (Jacanidae) of tropical and subtropical shorebirds with long toes that enable them to walk on the floating leaves of water plants; esp., a species (Jacana spinosa) native to Mexico
Origin of jaçana
Portuguese ; from Tupí
jasana
---
jacana
also ja·ca·na
noun
Any of several tropical or subtropical shorebirds of the family Jacanidae, having long toes adapted for walking on floating vegetation. Also called lily-trotter.
Origin of jacana
Portuguese
jaçanã
, from Tupí
jaçanam, jaçanã
,
one that cries out
.
---
jacana
---
jacana
Variant of jaçana
or jacana
noun
any of a family (Jacanidae) of tropical and subtropical shorebirds with long toes that enable them to walk on the floating leaves of water plants; esp., a species (Jacana spinosa) native to Mexico
Origin of jaçana
Portuguese ; from Tupí
jasana