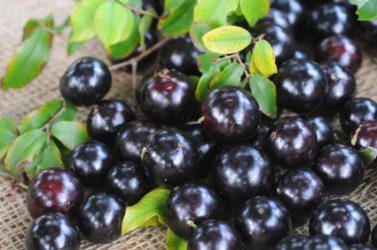 A cluster of jaboticaba berries.
---
jaboticaba
noun
A Brazilian shrub or small tree (Myrciaria cauliflora) cultivated for its edible purplish-black fruits, which are borne directly on the trunk and larger branches.
Origin of jaboticaba
Portuguese, from Tupí
iauoti kaua
,
having branches tipped with black fruit
.
---
jaboticaba
Noun
(plural jaboticabas)
The evergreen Brazilian grape tree, Myrciaria cauliflora, a fruit-bearing tree native to Argentina, Brazil and Paraguay.
Its fruit, purplish-black with a white pulp, which can be eaten raw or used in jellies and drinks.
Origin
From Portuguese jaboticaba (also spelt jabuticaba), from Tupian yawoti'kawa ("jaboticaba fruit") or ïapoti'kaba ("fruit in bloom").
---