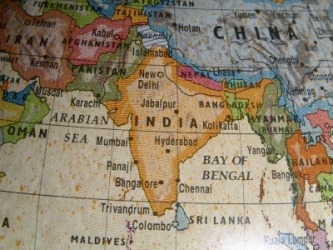 A map of India.
---
India definition by Webster's New World
region in S Asia, south of the Himalayas, including a large peninsula between the Arabian Sea & the Bay of Bengal: it contains the republic of India, Pakistan, Bangladesh, Nepal, & Bhutan

republic in the central & S part of this region: established by the British Parliament (1947), it became a republic in 1950: member of the Commonwealth: 1,222,243 sq mi (3,165,596 sq km); pop. 846,303,000; cap. New Delhi
Origin: Classical Latin ; from Classical Greek ; from Indos, the Indus ; from Old Persian Hindu, India: see Hindu
Webster's New World College Dictionary Copyright © 2010 by Wiley Publishing, Inc., Cleveland, Ohio. Used by arrangement with John Wiley & Sons, Inc.
---
India definition by American Heritage Dictionary
A peninsula and subcontinent of southern Asia south of the Himalaya Mountains, occupied by India, Nepal, Bhutan, Pakistan, and Bangladesh.
A country of southern Asia covering most of the Indian subcontinent. Aryans from the northwest invaded c. 1500 BC, pushing Dravidian and other peoples to the south. Most of India was unified by the emperor Asoka in the 3rd century BC. It experienced a golden age in the 4th and 5th centuries AD before being invaded c. 1000 by Muslims and later by the Mongol conqueror Baber, who established the Mogul empire (1526-1857). Various European powers established trading posts in the 16th and 17th centuries, with the British assuming authority over India in 1857. In the 20th century, India gained its independence from Great Britain (1947) following a campaign of civil disobedience led by the pacifist Mohandas Gandhi. Its concomitant partition into the separate countries of India and Pakistan resulted in a tumultuous migration of Muslims to Pakistan and Hindus and Sikhs to India in which approximately one million people died. New Delhi is the capital and Mumbai (Bombay) the largest city. Population: 1,130,000,000.
India
The American Heritage® Dictionary of the English Language, 4th edition Copyright © 2010 by Houghton Mifflin Harcourt Publishing Company. Published by Houghton Mifflin Harcourt Publishing Company. All rights reserved.
---
India - Cultural Definition
Republic in southern Asia. Its capital is New Delhi, and its largest city is Calcutta.
India is the second most populous country in the world, after China.
British control of India began in 1757 and did not end until the dissolution of the British regime, or Raj, in 1947, when India was divided into India and Pakistan.

Mahatma Gandhi led the movement for Indian independence through passive resistance to British rule. He was killed by a fanatic in 1948.

The country is marked by conflict between the Hindu and Muslim populations and violence between castes.
Despite world disapproval, in 1998 India successfully conducted nuclear bomb tests. Pakistan did the same two weeks later. (

See

Kashmir.)