Idaho
[ī′də hō′]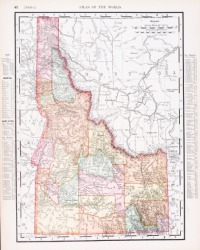 A vintage map of Idaho.
---
Idaho
noun
a type of large, oblong white potato with a high starch content, grown chiefly in Idaho and used mainly for baking
Mountain State of the NW U.S.: admitted, 1890; 82,747 sq mi (214,314 sq km); pop. 1,294,000; cap. Boise: abbrev. ID, Id, or Ida
Origin of Idaho
; from tribal (Shoshonean) name ; from uncertain or unknown; perhaps
---
Idaho
Abbr. ID or Id.
A state of the northwest United States. It was admitted as the 43rd state in 1890. Explored by the Lewis and Clark expedition in 1805, the region was held jointly by Great Britain and the United States from 1818 to 1846. Idaho became a separate territory in 1863. Boise is the capital and the largest city.
Related Forms:
I′da·ho′an

adjective

& n.
noun
Origin of Idaho
After
Idaho
,
where it is chiefly grown
.
---
Idaho
Variant of Idaho
noun
a type of large, oblong white potato with a high starch content, grown chiefly in Idaho and used mainly for baking