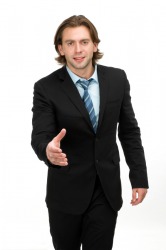 How do you do?
idiom
How do you do is defined as a polite greeting that you can use when first introduced to someone.

An example of "how do you do" is what you would say as you shake hands with someone you meet for the first time.
---
how-do-you-do
or how-d'ye-do·
Informal
an annoying or awkward situation: usually preceded by
fine, pretty, nice
, etc.
Origin of how-do-you-do
from the greeting how do you do? (see phrase at how)
---
how-do-you-do

Phrase
(?)
(formal) a greeting used on first meeting somebody. Alternatives are pleased to meet you, nice to meet you. The formal response is to repeat the phrase.
---