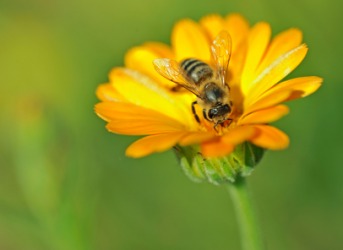 A honey bee on a marigold.
noun
The definition of a honey bee is a bee that produces honey and beeswax. The common name for this insect is often spelled "honeybee." However, according to the Entomological Society of America (ESA) the correct common name of this insect is "honey bee."

An example of a honey bee is a brown bee kept in a hive by a beekeeper for the honey and beeswax produced.
---
honey-bee

---