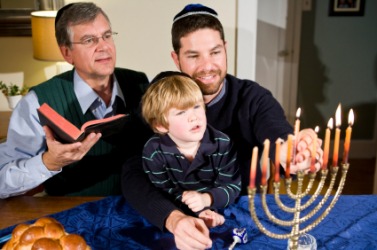 A family celebrating Hanukkah.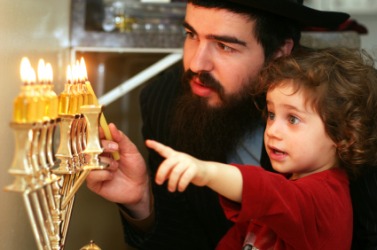 A child watches his father light the menorah to celebrate Hanukkah.
---
Hanukkah
---
Hanukkah
or Ha·nu·kah also Cha·nu·kah
noun
Judaism
An eight-day festival beginning on the 25th day of Kislev, commemorating the victory in 165 BC of the Maccabees over Antiochus Epiphanes (c. 215–164 BC) and the rededication of the Temple at Jerusalem. Also called Feast of Dedication, Feast of Lights.
Origin of Hanukkah
Hebrew
&hlowdot;ănukkâ
,
dedication
, from
&hlowdot;ānak
,
to train, dedicate
; see
&hlowdot;nk
in Semitic roots.
---
Hanukkah
Proper noun
(plural Hanukkahs)
Origin
Originated 1890–95. From Hebrew חנוכה \ חֲנֻכָּה (khanuká, "dedication, consecration") from חָנַךְ (khanákh, "to dedicate, to consecrate").
---