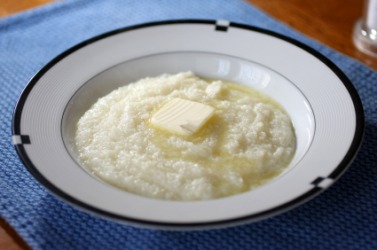 A bowl of grits.
---
grits definition by Webster's New World
☆
plural noun
corn or other grain, soybeans, etc. ground more coarsely than for flour or meal; esp., in the South, hominy ground coarsely: grits are eaten as porridge, as a side dish, and in casseroles
Origin: Middle English gryttes (pl.) ; from Old English grytte, akin to German grütze: for Indo-European base see grit
Webster's New World College Dictionary Copyright © 2010 by Wiley Publishing, Inc., Cleveland, Ohio. Used by arrangement with John Wiley & Sons, Inc.
---
grits definition by American Heritage Dictionary
plural noun
(used with a sing. or pl. verb)
A ground, usually white meal of dried and hulled corn kernels that is boiled and served as a breakfast food or side dish.
Coarsely ground grain, especially corn.
Origin: Alteration of Middle English grutta, coarse meal, from Old English grytta, pl. of grytt.