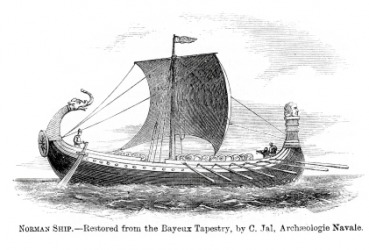 An ancient galley.
Licensed from iStockPhoto
---
noun
pl.
galleys
a long, low, usually single-decked ship propelled by oars and sails, used esp. in ancient and medieval times: the oars were usually manned by chained slaves or convicts

the kitchen of a ship, boat, or airplane
a small, compact, or cramped kitchen

Brit.

a large rowboat

Printing

a shallow, oblong tray for holding composed type before it is put into a form
galley proof
Origin: Middle English galeie from Old French galie from Midieval Latin galea from Medieval Greek galaia, kind of ship from Glassical Greek galeos, shark from galeē, weasel (in reference to its speed)
Webster's New World College Dictionary
Copyright © 2010 by Wiley Publishing, Inc., Cleveland, Ohio.
Used by arrangement with John Wiley & Sons, Inc.
---
noun
pl.
gal·leys
Nautical

a. A large, usually single-decked medieval ship of shallow draft, propelled by sails and oars and used as a merchant ship or warship in the Mediterranean.

b. An ancient Mediterranean seagoing vessel propelled by oars.

c. A large rowboat formerly used by British customs officers.

The kitchen of an airliner, ship, or camper.
Printing

a. A long tray, usually of metal, used for holding composed type.

b. Galley proof.
Origin: Middle English galei, from Old French galie, from Old Provençal or Catalan galea, from Medieval Greek, probably variant of Greek galeos, shark, perhaps from galeē, weasel.
The American Heritage® Dictionary of the English Language
, 4th edition Copyright © 2010 by Houghton Mifflin Harcourt Publishing Company. Published by Houghton Mifflin Harcourt Publishing Company. All rights reserved.