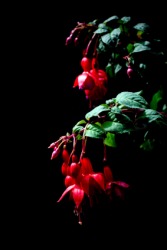 Close up of the leaves and flowers of a fuchsia plant.
A purplish red, similar to magenta, like the blossoms of the flower of the same name.
---
fuchsia
any of a genus (Fuchsia) of shrubby plants of the evening-primrose family, usually with pink, red, or purple flowers hanging from the ends of the branches
purplish red
Origin of fuchsia
ModL, so named by Linnaeus after L.
Fuchs
(1501-66), German botanist
---
fuchsia
noun
Any of various tropical shrubs or trees of the genus Fuchsia, widely cultivated for their showy, drooping, purplish, reddish, or white flowers.
A strong, vivid purplish red.
Origin of fuchsia
New Latin
Fuchsia
genus name
after Leonhard
Fuchs
(1501-1566), German botanist
Related Forms:
fuchsia
---
fuchsia

Noun
(plural fuchsias)
A popular garden plant, of the genus Fuchsia, of the Onagraceae family, shrubs with red, pink or purple flowers.
Adjective
(not comparable)
Having a purplish-red colour.
Origin
After the genus Fuchsia, itself named after Leonhart Fuchs, German botanist.
Origin
Named after the botanist Leonhart Fuchs.
---
fuchsia - Computer Definition
An upcoming operating system from Google that will run on all devices from mobiles to desktops. Pronounced "fyoo-sha," Fuchsia is expected to combine the best features of embedded and desktop operating systems. Embedded systems are designed for small-footprint, real-time response, while a desktop OS is created to handle large programs and multiple simultaneous tasks. As a product designed from scratch, there are also no intellectual property or licensing issues. The name is a pink-purple color that comes from the fuchsia plant. See Google.
---