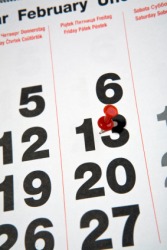 Friday the thirteenth.
noun
Friday is defined as the day before the weekend, or the sixth day of the week.

An example of Friday is the superstitious day, Friday the 13th.
---
Friday
the sixth day of the week: abbrev. Fri or F

Origin of Friday

after the devoted servant of Robinson Crusoe a faithful follower or efficient helper

usually man (or girl) Friday
Origin of Friday
Middle English
fridai
from Old English
frigedæg
, literally , day of the goddess Frigg, akin to German
Freitag
, Dutch
Vrijdag
, Swedish
Fredag
: translated, translation of Late Latin
Veneris dies
(Fr
vendredi
), Venus' day
---
Friday
noun
Abbr.
Fri.
or
Fr.
or
F
The day of the week that comes after Thursday and before Saturday.
Origin of Friday
Middle English
Fridai
from
Old English
Frīgedæg
; see
prī-
in Indo-European roots.
Related Forms:
---
friday

Noun
(plural Fridays)
The sixth day of the week in many religious traditions, and the fifth day of the week in systems using the ISO 8601 norm; the Biblical sixth day of a week, the day before the Sabbath, or "day of preparation" in preparation for the Sabbath; the Islamic sabbath; it follows Thursday and precedes Saturday.
Adverb
(not comparable)
on Friday
Origin
From Old English frīġedæġ. Compound of frīġe and dæġ "day", corresponding to late Proto-Germanic *Frijjōz dagaz ("day of Frigg"). Compare West Frisian freed, Low German Freedag, Dutch vrijdag, German Freitag, Danish fredag. Old Norse Frigg (genitive Friggjar), Old Saxon Fri, and Old English Frig are derived from Common Germanic Frijjō. Frigg is cognate with Sanskrit prīyā́ which means "wife." The root also appears in Old Saxon fri which means "beloved lady", in Swedish as fria ("to propose for marriage") and in Icelandic as frjá which means "to love."
A calque of Latin dies Veneris, via an association of the goddess Frigg with the Roman goddess of love Venus.
---