fluted
[flo̵̅o̅t′id]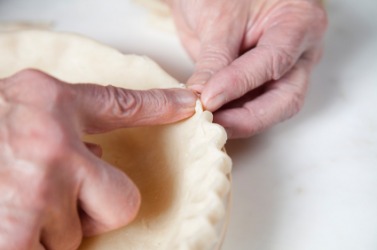 A baker making a fluted pie crust.
---
fluted
adjective
having a flutelike tone; fluty
having long, rounded grooves
---
fluted
Adjective
(comparative more fluted, superlative most fluted)
Having flutes or grooves, either for decoration or to trim weight.
(Ireland, slang) Drunk; intoxicated.
Verb
Simple past tense and past participle of flute.
---
fluted
Variant of flute
noun
a high-pitched wind instrument consisting of a long, slender tube, played by blowing across a hole near one end: by fingering the holes and keys along its length, the player can produce various tones
any of various similar instruments, as the fipple flute

an ornamental groove or pleat in cloth, etc.

Archit.

a long, vertical, rounded groove in the shaft of a column

a flue pipe
a flue organ stop with a flutelike tone

a tall, slender wineglass, used esp. for champagne
Origin of flute
Middle English
floute
; from Old French
fleüte, flaute
; from Provençal
fläut
, probably ; from
flaujol
(OFr
flajeol
: see flageolet) +
laüt
, lute
transitive verb
fluted, fluting
to sing, speak, whistle, etc. in a flutelike tone
to play on the flute
to make long, rounded grooves in (a column, etc.)
intransitive verb
to play on the flute
to sing, speak, whistle, etc. in a flutelike tone