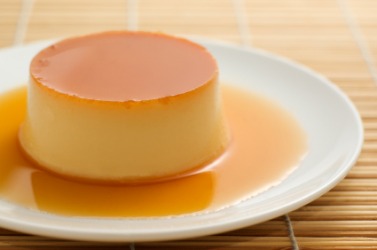 A caramel flan.
---
flan definition by Webster's New World
noun
a piece of shaped metal ready to be made into a coin by the stamp of a die; blank

a tart filled with custard, fruit, etc., or with a savory mixture
a Spanish dessert of custard covered with a burnt-sugar syrup
Origin: French ; from Old French flaon (from source Middle English flawn, flan) ; from Midieval Latin flado (gen. fladonis) ; from Old High German flat cake, akin to Middle English flathen: for Indo-European base see flat
Webster's New World College Dictionary Copyright © 2010 by Wiley Publishing, Inc., Cleveland, Ohio. Used by arrangement with John Wiley & Sons, Inc.
---
flan definition by American Heritage Dictionary
noun
A tart with a filling of custard, fruit, or cheese.
See crème caramel.
A metal disk to be stamped as a coin; a blank.
Origin: French, from Old French flaon, from Late Latin fladō, fladōn-, flat cake, of Germanic origin; see plat- in Indo-European roots.