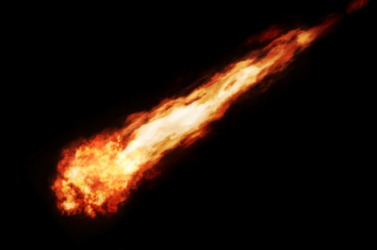 This meteor is a fire ball.
---
fireball
noun
something resembling a ball of fire; specif.,

a large, bright meteor
ball lightning
a high-temperature, luminous ball of gas which forms shortly after a nuclear explosion

Historical

a ball of explosive or combustible material thrown as a weapon in battle
☆

Informal

a vigorous, energetic person
---
fireball
noun
A brilliantly burning sphere.
A highly luminous, intensely hot spherical cloud of dust, gas, and vapor generated by a nuclear explosion.
See bolide.
See ball of fire.
---
fireball
---