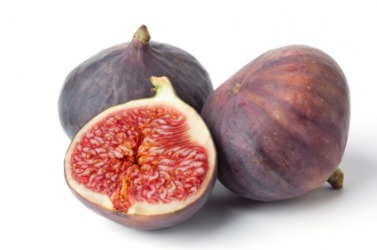 Two and a half figs.
---
fig definition by Webster's New World
noun
the hollow, pear-shaped false fruit (syconium) of the fig tree, with sweet, pulpy flesh containing numerous tiny, seedlike true fruits (achenes)
any of a genus (Ficus) of fig-bearing trees of the mulberry family, esp. any of the many cultivated varieties of a tree (F. carica) bearing edible figs
a trifling amount; little bit: not worth a fig
a gesture of contempt or disdain made as by placing the thumb between the first two fingers or under the upper teeth
Origin: Middle English fige ; from Old French ; from Vulgar Latin an unverified form fica, for Classical Latin ficus, fig tree, fig
transitive verb
figged, figging
to dress showily: with out or up
Origin: altered ; from obsolete feague, to whip, polish; confused with the contr. for figure, probably from the use of this contracted form in reference to plates in books of fashions
noun
dress; appearance
shape; condition
figurative
figuratively
figure(s)
Webster's New World College Dictionary Copyright © 2010 by Wiley Publishing, Inc., Cleveland, Ohio. Used by arrangement with John Wiley & Sons, Inc.
---
fig definition by American Heritage Dictionary
noun
a. Any of several trees or shrubs of the genus Ficus, especially F. carica, native to the Mediterranean region and widely cultivated for its edible multiple fruit.

b. The sweet, hollow, pear-shaped, multiple fruit of this plant, having numerous tiny seedlike fruits.

a. Any of several plants bearing similar fruit.

b. The fruit of such a plant.

A trivial or contemptible amount: not worth a fig; didn't care a fig.
Origin: Middle English, from Old French figue, from Old Provençal figa, from Vulgar Latin *fīca, from Latin fīcus.
noun
Dress; array: in full fig.
Physical condition; shape: in fine fig.
Origin: Perhaps from fig, to trot out a horse in lively condition, dress up, variant of feague, to make a horse lively, probably from Dutch vegen, to brush, from Middle Dutch vēghen.
abbreviation
figurative
figuratively
figure
The American Heritage® Dictionary of the English Language, 4th edition Copyright © 2010 by Houghton Mifflin Harcourt Publishing Company. Published by Houghton Mifflin Harcourt Publishing Company. All rights reserved.
---
fig - Phrases/Idioms
in full fig
Informal
completely dressed or outfitted, esp. in a showy manner