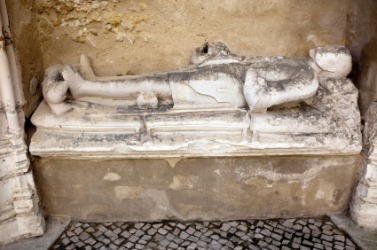 Tomb of Ferdinand the Great of Castile.
---
Ferdinand
noun
a masculine name
Origin of Ferdinand
Fr; probably ; from Germanic an unverified form
farthi-
, journey ; from
faran
, to travel (see fare) + an unverified form
nanths
, courage from source Gothic (
ana)nanthjan
, to be bold, Old English
nethan
, to dare; hence, literally , uncertain or unknown; perhaps bold traveler
1000?-65; king of Castile (1035-65) & of León (1037-65): called the Great

1503-64; emperor of the Holy Roman Empire (1558-64), born in Spain

(born Maximilian Karl Leopold Maria) 1861-1948; king of Bulgaria (1908-18); abdicated

1578-1637; emperor of the Holy Roman Empire (1619-37)

1452-1516; king of Castile (1474-1504); (as ) king of Aragon & Sicily (1479-1516); (as ) king of Naples (1504-16): husband of Isabella I of Castile: called the Catholic
---
Ferdinand
Proper noun
A male given name, best known for a 13th century king of Spain, but never popular in English.
Origin
Contraction of Spanish Ferdinando, from Germanic farð "journey" or frið "peace" + nand "ready, prepared".
---