fax

fax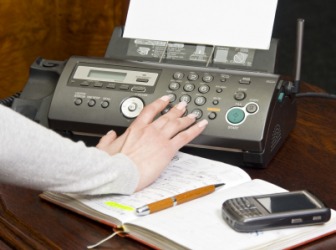 A person using a fax.
noun
The definition of a fax, also called a facsimile, is an image of a document that was scanned and sent electronically by a machine, or is slang for the machine used to send the image.

An electronic document that is scanned by a machine and sent electronically to another machine where it is printed out is an example of a fax.
verb
To fax is defined as to send documents via a machine that scans them and transmits them electronically to another similar machine after you put in a telephone number telling it what machine is the destination.

When you send an item using a fax machine, this is an example of a time when you fax.
---
fax
the transmission of graphic matter by electrical or electronic means, as over a telephone line, for reception and reproduction; facsimile
graphic matter in the form of electronic data transmitted in this way, that has been reproduced by printing out or stored as a computer file
a device for producing such copies
Origin of fax
from facsimile
of or for a fax
by fax: a fax sales order
to transmit by fax
to send to by fax
---
fax
noun
A fax machine.
A document transmitted or received by a fax machine. Also called In both senses also called facsimile .
transitive verb
faxed, fax·ing, fax·es
To transmit (a document) by a fax machine.
Origin of fax
Shortening and alteration of
facsimile
---
fax

Origin
From Middle English, from Old English feax ("hair, head of hair"), from Proto-Germanic *fahsą ("hair, mane"), from Proto-Indo-European *poḱs- ("hair", literally "that which is combed, shorn, or plucked"), from Proto-Indo-European *peḱ- ("to comb, shear, pluck"). Cognate with Dutch vas ("headhair"), German Fachs ("headhair"), Norwegian faks ("mane"), Icelandic fax ("mane"), Sanskrit पक्ष्मन् (pakṣman, "eyelash, hair, filament").
Noun
(plural faxes)
A fax machine or a document received and printed by one.
Verb
(third-person singular simple present faxes, present participle faxing, simple past and past participle faxed)
To send a document via a fax machine.
---
fax - Computer Definition

---
(FACSimile) Originally called "telecopying," it is the communication of a printed page between remote locations. Fax machines scan a paper form and transmit a coded image over the telephone system. The receiving machine prints a copy (a facsimile) of the original. A fax machine is made up of a scanner, printer and modem with fax signaling. Group 1, 2, 3 and 4 Fax standards were developed starting in 1968 and are classified by Groups. Groups 1 and 2, used until the late 1980s, transmitted a page in six and three minutes respectively. Group 3 transmits at less than one minute per page and uses data compression at 9,600 bps. The Group 3 speed increase led to the extraordinary rise in usage in the late 1980s. Group 3 resolutions are 203x98 dpi in standard mode, 203x196 in fine mode and 203x392 in super fine mode. Group 3 is the common standard, but Group 4 machines can transmit a page in just a few seconds and provide up to 400x400 resolution. Group 4 requires 56 to 64 Kbps bandwidth and needs ISDN, Switched 56 circuits or DSL lines. See fax/modem, Internet faxing and e-mail.
---