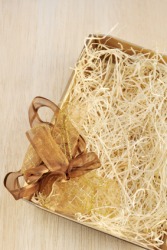 A gift box filled with excelsior.
noun
The definition of excelsior is shavings of wood used as packing material.

An example of excelsior is the packing material used to protect fine paintings during shipment.
---
excelsior
higher; always upward: used as a motto (as on the New York State seal)
Origin of excelsior
L, comparative of
excelsus
, lofty, high from past participle of
excellere
, excel
long, thin wood shavings used for packing breakable things or as stuffing in some furniture
Origin of excelsior
orig. a trademark
---
excelsior
noun
Slender, curved wood shavings used especially for packing.
Origin of excelsior
Originally a trademark
---
excelsior

Adjective
(not comparable)
(archaic) Loftier, yet higher; ever upward
Noun
(uncountable)
Stuffing material (as for furniture and mattresses) made of slender, curled wood shavings, as a substitute for hair.
Origin
From Latin excelsior, comparative of excelsus ("high"). The name of the stuffing material was originally a trademark.
---