Euclid
Eu·clid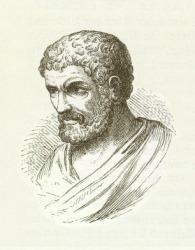 The Greek mathematician Euclid.
noun
Euclid was a Greek mathematician known for his contributions to geometry.

An example of Euclid is the man who wrote the book Elements.
---
Euclid
fl. 300 ; Gr. mathematician: author of a basic work in geometry
Origin of Euclid
Classical Latin
Euclides
; from Classical Greek
Eukleid?s
city in NE Ohio: suburb of Cleveland
Origin of Euclid
so named (after Euclid) by its surveyors
---
Euclid
Third century BC.
Greek mathematician who applied the deductive principles of logic to geometry, thereby deriving statements from clearly defined axioms. His Elements remained influential as a geometry textbook until the 19th century.
---
euclid
Proper noun
Euclid of Alexandria, a Greek mathematician
A male given name of mostly historical use.
An unincorporated community in West Virginia.
Origin
From Ancient Greek Εὐκλείδης (Eukleidēs).
---