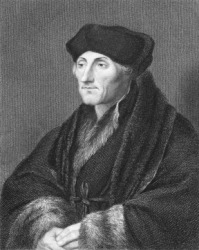 A portrait of the scholar Erasmus.
---
Erasmus
Erasmus, Desiderius (born Gerhard Gerhards) 1466?-1536; Du. humanist, scholar, & theologian
---
Erasmus
Proper noun
Desiderius Erasmus, a Dutch humanist and theologian.
A male given name, rare in English.
Origin
Form Ancient Greek, ἐράσμιος (erasmios, "pleasant"); name of an early Christian martyr.
---