er
[variously u, ə, ä, etc.; ʉr, ər are spelling pronunciations]
abbreviation
ER is defined as an abbreviation for emergency room.

An example of an ER is the section of a hospital for immediate care.
interjection
Er is defined as something you say when you hesitate during a conversation or talk.

An example of er is what is written in a radio transcript when someone pauses.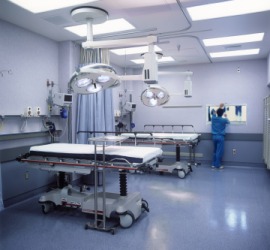 A hospital ER.
---
er
interjection
used when hesitating in speaking, as while searching for a word or collecting one's thoughts: a conventionalized representation of the sound
Baseball

earned run
emergency room
Origin of -er

Middle English -er(e) ; from Old English -ere ; from West Germanic an unverified form -arj, an unverified form -ārj ; from or akin to, and reinforced by, Classical Latin -arius, -arium, agentive suffixes (Anglo-Fr -er, -ier), Classical Latin -ar (OFr -er), Classical Latin -atur (OFr -ëure), Classical Latin -atorium (OFr -ëor, French -oir), Classical Latin -ator (OFr -ëor)

a person having to do with, esp. as an occupation or profession: added to nouns: hatter, geographer
a person native to or living in: added to place names and nouns: New Yorker, cottager
a thing or action connected with: added to nouns, noun compounds, and noun phrases
a person or thing that ____s: added to verbs: roller

Origin of -er

ME -re, -er < OE -ra forming the comparative degree of many adjectives and adverbs: later, greater

Origin of -er

ME < Anglo-Fr inf. suffix the action of ____ing: added to verb bases in legal language: demurrer, repleader

Origin of -er

ME -ren, -rien < OE -rian, freq. suffix repeatedly: added to verbs and verb bases: flicker, patter
---
er
abbreviation
emergency room
Informal
Contraction of her: Look at 'er go!
Origin of 'er
Middle English
her, er
; see
her
.
suffix
a. One that performs a specified action: swimmer.

b. One that undergoes or is capable of undergoing a specified action: broiler.

c. One that has: ten-pounder.

d. One that is associated or involved with: banker.

a. Native or resident of: New Yorker.

b. One that is: foreigner.
Origin of -er
Middle English, partly from Old English
-ere
(from Germanic
*-ārjaz
, from Latin
-ārius
,
-ary
), partly from Anglo-French
-er
(from Old French
-ier
, from Latin
-ārius
) and partly from Old French
-ere, -eor
; see
–or
1
.
suffix
Used to form the comparative degree of adjectives and adverbs: darker; faster.
Origin of -er
Middle English, from Old English
-re, -ra
.
---
er
Verb
(third-person singular simple present ers, present participle erring, simple past and past participle erred)
(informal) To utter the word "er" when hesitating in speech, found almost exclusively in the phrase um and er.

He ummed and erred his way through the presentation.
Origin
Mimetic (sound of hesitation)
Suffix
Variant form of -er used in words ending with an abbreviation or (sometimes) a number.

4-H'er, 49'er
Abbreviations
Country code top-level domains
Active:  .ac  .ad  .ae  .af  .ag  .ai  .al  .am  .an  .ao  .aq  .ar  .as  .at  .au  .aw  .ax  .az  .ba  .bb  .bd  .be  .bf  .bg  .bh  .bi  .bj  .bm  .bn  .bo  .br  .bs  .bt  .bw  .by  .bz  .ca  .cc  .cd  .cf  .cg  .ch  .ci  .ck  .cl  .cm  .cn  .co  .cr  .cu  .cv  .cx  .cy  .cz  .de  .dj  .dk  .dm  .do  .dz  .ec  .ee  .eg  .er  .es  .et  .eu  .fi  .fj  .fk  .fm  .fo  .fr  .ga  .gd  .ge  .gf  .gg  .gh  .gi  .gl  .gm  .gn  .gp  .gq  .gr  .gs  .gt  .gu  .gw  .gy  .hk  .hm  .hn  .hr  .ht  .hu  .id  .ie  .il  .im  .in  .io  .iq  .ir  .is  .it  .je  .jm  .jo  .jp  .ke  .kg  .kh  .ki  .km  .kn  .kp  .kr  .kw  .ky  .kz  .la  .lb  .lc  .li  .lk  .lr  .ls  .lt  .lu  .lv  .ly  .ma  .mc  .md  .me  .mg  .mh  .mk  .ml  .mm  .mn  .mo  .mp  .mq  .mr  .ms  .mt  .mu  .mv  .mw  .mx  .my  .mz  .na  .nc  .ne  .nf  .ng  .ni  .nl  .no  .np  .nr  .nu  .nz  .om  .pa  .pe  .pf  .pg  .ph  .pk  .pl  .pm  .pn  .pr  .ps  .pt  .pw  .py  .qa  .re  .ro  .rs  .ru  .rw  .sa  .sb  .sc  .sd  .se  .sg  .sh  .si  .sk  .sl  .sm  .sn  .sr  .st  .su  .sv  .sy  .sz  .tc  .td  .tf  .tg  .th  .tj  .tk  .tl  .tm  .tn  .to  .tr  .tt  .tv  .tw  .tz  .ua  .ug  .uk  .us  .uy  .uz  .va  .vc  .ve  .vg  .vi  .vn  .vu  .wf  .ws  .ye  .yt  .za  .zm  .zw
---
Sentence Examples
---
If you don't think I've seen scars, I'll take you down to hospital ER on any Saturday night.
You think I brought you back because of that …er, relationship.
He smelled the blood of the injured from outside the ER doors.
From the Celts has been derived the gay, brilliant and adventurous temperament easily moved to extremes of er,thiisi~cm snd t-lenrpgcg-,n whwh combined with logical and organizing faculties of a high order, the heritage from the Latin domination, and with the industry, frugality and love of the soil natural in an agricultural people go to make up the national character.
SEINE-Er-MARNE.
Words near er in the dictionary
---
Login