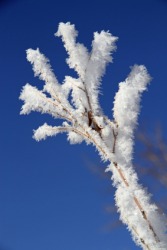 A branch encrusted with frost.
---
encrust definition by Webster's New World
transitive verb
to cover with or as with a crust, or hard coating
to decorate elaborately, esp. with gems
Origin: Old French encrouster ; from Classical Latin incrustare: see in- and amp; crust
intransitive verb
to form a crust
Webster's New World College Dictionary Copyright © 2010 by Wiley Publishing, Inc., Cleveland, Ohio. Used by arrangement with John Wiley & Sons, Inc.
---
encrust definition by American Heritage Dictionary
also in·crust
transitive verb
en·crust·ed
also
in·crust·ed
,
en·crust·ing
also
in·crust·ing
,
en·crusts
also
in·crusts
To cover or coat with or as if with a crust: tires encrusted with dried mud; legalities that were encrusted with tradition.
To decorate by inlaying or overlaying with a contrasting material: encrust wood paneling with ivory.
Origin: Possibly from French incruster, from Latin incrustāre : in-, on; see en-1 + crusta, crust; see kreus- in Indo-European roots.