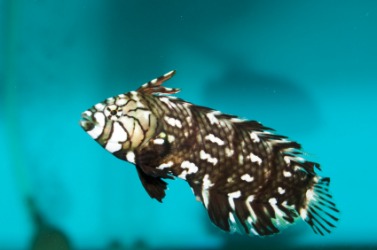 A dragonet fish in an aquarium.
---
dragonet definition by Webster's New World
noun
a small dragon
any of a percoid family (Callionymidae) of small, brightly colored, scaleless, tropical reef fishes
Origin: Middle English ; from Old French diminutive of dragon
Webster's New World College Dictionary Copyright © 2010 by Wiley Publishing, Inc., Cleveland, Ohio. Used by arrangement with John Wiley & Sons, Inc.
---
dragonet definition by American Heritage Dictionary
noun
Any of various small, often brightly colored marine fishes of the family Callionymidae, having a slender body and a flattened head.
Origin: Middle English, young dragon, from Old French, diminutive of dragon, dragon; see Dragon .