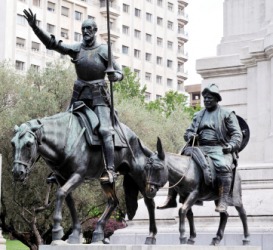 Sculptures of Don Quixote and Sancho Panza.
---
Don Quixote
a satirical novel by Cervantes, published in two parts (1605, 1615)
the hero of this novel, who tries in a chivalrous but unrealistic way to rescue the oppressed and fight evil
---
Don Quixote
noun
An impractical idealist bent on righting incorrigible wrongs.
Origin of Don Quixote
After
Don Quixote, hero of a satirical chivalric romance by Miguel de Cervantes
.
---
Don Quixote
Proper noun
A Spanish novel whose full title is El ingenioso hidalgo don Quijote de la Mancha (The Ingenious Gentleman Don Quixote of La Mancha).
The protagonist of the novel.
Noun
(plural Don Quixotes)
Any person or character who displays quixotism.
Origin
From Old Spanish Don Quixote.
---