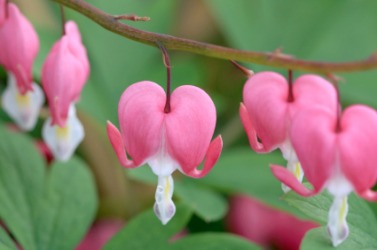 The bleeding heart is a dicentra.
---
dicentra definition by Webster's New World
noun
any of a genus (Dicentra) of plants of the fumitory family with deeply cut leaflets and heart-shaped flowers of white, rose, etc., as Dutchman's-breeches; bleeding heart
Origin: Modern Latin ; from di- plush Classical Greek kentron, a spur: see center
Webster's New World College Dictionary Copyright © 2010 by Wiley Publishing, Inc., Cleveland, Ohio. Used by arrangement with John Wiley & Sons, Inc.
---
dicentra definition by American Heritage Dictionary
noun
A plant of the genus Dicentra, which includes the bleeding heart and Dutchman's breeches.
Origin: New Latin Dicentra, genus name : di-1 + Greek kentron, point (from kentein, to prick; see kent- in Indo-European roots).