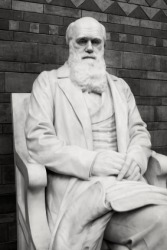 A statue of Charles Darwin.
---
Darwin
Darwin, Charles (Robert) 1809-82; Eng. naturalist: originated theory of evolution by natural selection

Darwin, Erasmus 1731-1802; Eng. naturalist, physician, & poet: grandfather of Charles
capital of Northern Territory, Australia: seaport on the Timor Sea: pop. 69,000
---
Darwin
A city of northern Australia on Port Darwin, an inlet of the Timor Sea. Founded as Palmerston in 1869 and renamed in 1911, it is the capital of the Northern Territory.
---