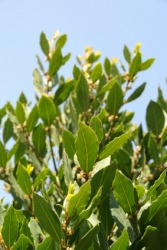 The Daphne shrub.
---
daphne definition by Webster's New World
noun
a feminine name

Gr. Myth.

a nymph who is changed by her father into a laurel tree so that she may escape Apollo's advances
any of a genus (Daphne) of small evergreen shrubs of the mezereum family, with fragrant flowers
Origin: Classical Latin ; from Classical Greek daphnē, the laurel or bay tree
Webster's New World College Dictionary Copyright © 2010 by Wiley Publishing, Inc., Cleveland, Ohio. Used by arrangement with John Wiley & Sons, Inc.
---
daphne definition by American Heritage Dictionary
noun
Any of several Eurasian shrubs of the genus Daphne often cultivated for their glossy evergreen foliage and clusters of small, bell-shaped flowers.
Origin: Latin daphnē, laurel, from Greek.
noun
Greek Mythology
A nymph who metamorphosed into a laurel tree as a means of escaping from Apollo.
daphne
Variant of Daphne
noun
a feminine name

Gr. Myth.

a nymph who is changed by her father into a laurel tree so that she may escape Apollo's advances
any of a genus (Daphne) of small evergreen shrubs of the mezereum family, with fragrant flowers
Origin: Classical Latin ; from Classical Greek daphnē, the laurel or bay tree