daphne
[daf′nē]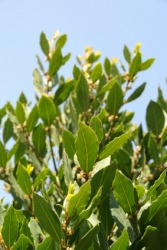 The Daphne shrub.
---
daphne
noun
a feminine name

Gr. Myth.

a nymph who is changed by her father into a laurel tree so that she may escape Apollo's advances
any of a genus (Daphne) of small evergreen shrubs of the mezereum family, with fragrant flowers
Origin of Daphne
Classical Latin ; from Classical Greek
daphnē
, the laurel or bay tree
---
daphne
noun
Any of several Eurasian shrubs of the genus Daphne, often cultivated for their glossy evergreen foliage and clusters of small, fragrant, bell-shaped flowers.
Origin of daphne
Latin
daphnē
,
laurel
, from Greek.
noun
Greek Mythology
A nymph who metamorphosed into a laurel tree as a means of escaping from Apollo.
---
daphne
Noun
(plural daphnes)
(botany) Any one of least 50 species of shrub of the Thymelaeaceae family, some of which are grown as ornamentals.
Origin
From the Ancient Greek δάφνη (daphnē, "laurel").
Proper noun
(Greek mythology) A dryad pursued by Apollo, who was turned into a laurel tree by the river god Peneus.
A female given name.
Origin
From Ancient Greek δάφνη (daphnē, "laurel", "bay").
---
daphne
Variant of Daphne
noun
a feminine name

Gr. Myth.

a nymph who is changed by her father into a laurel tree so that she may escape Apollo's advances
any of a genus (Daphne) of small evergreen shrubs of the mezereum family, with fragrant flowers
Origin of Daphne
Classical Latin ; from Classical Greek
daphnē
, the laurel or bay tree