noun
The definition of a collage is a piece of art created by combining photos, clippings or small objects onto a surface.

An example of a collage is a picture of a flower made with many pictures of friends and family.
verb
To collage is defined as to group various items together.

An example of to collage is to gather together pictures, words and pressed flowers to make a work of art.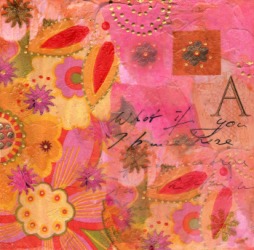 A collage made from different papers.
---
collage definition by Webster's New World
noun
an art form in which, variously, small objects, bits of newspaper, cloth, pressed flowers, etc. are pasted together on a surface in incongruous relationship for their symbolic or suggestive effect
a composition so made
any collection of seemingly unrelated bits and parts, as in a photomontage
Origin: French a pasting ; from colle, paste ; from Classical Greek kolla, glue
Webster's New World College Dictionary Copyright © 2010 by Wiley Publishing, Inc., Cleveland, Ohio. Used by arrangement with John Wiley & Sons, Inc.
---
collage definition by American Heritage Dictionary
noun
a. An artistic composition of materials and objects pasted over a surface, often with unifying lines and color.

b. A work, such as a literary piece, composed of both borrowed and original material.

The art of creating such compositions.
An assemblage of diverse elements: a collage of conflicting memories.
verb
col·laged
,
col·lag·ing
,
col·lages
verb
, transitive
To paste (diverse materials) over a surface, thereby creating an artistic product.
verb
, intransitive
To create such an artistic product.
Origin: French, from coller, to glue, from colle, glue, from Vulgar Latin *colla, from Greek kolla.
Related Forms: