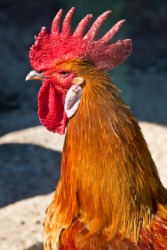 A rooster with a bright red cockscomb.
---
cockscomb
noun
the red, fleshy growth on the head of a rooster
coxcomb
an ornamental plant (Celosia cristata) of the amaranth family, with red or yellow flower heads somewhat like a rooster's crest
---
cockscomb
noun
The comb of a rooster.
The cap of a jester, decorated to resemble the comb of a rooster.
An annual plant (Celosia argentea) widely cultivated for its showy, fan-shaped or plumelike clusters of red or yellow flowers. Also called celosia.
Obsolete Variant of coxcomb.
---
cockscomb
---