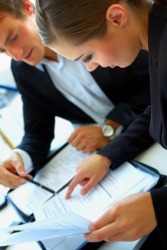 A businesswoman talking to her co-worker.
noun
The definition of a co worker is someone with whom you work or work alongside at your job.

An example of a co worker is a person who does a similar job as you who works in the next cubicle.
---
co-worker
or co′work·er
a person with whom one works in the same workplace
---
co-worker

Noun
(plural co-workers)
Alternative spelling of coworker.
---