cleanup

clean·up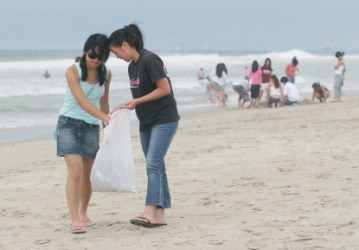 Volunteers working to cleanup a beach.
adjective
The definition of cleanup is the fourth hitting position in a baseball lineup.

An example of cleanup is the position where the strongest hitter usually goes.
noun
Cleanup is defined as the elimination of crime, dirt, junk or anything else that you don't want, or is slang for a large profit.

An example of cleanup is picking up the yard, planting crops and cutting the grass after the winter.
An example of a cleanup is to triple your investment in one day.
---
cleanup
the act of cleaning up
elimination of crime, vice, graft, etc.
Baseball
designating or of the fourth batter in a team's lineup: so positioned because regarded as most likely to drive in runners on base
---
cleanup
noun
A thorough cleaning or ordering.
Informal The final, often routine tasks that complete a project.
Slang A very large profit; a killing.
Baseball The fourth position on a team's batting order, usually reserved for a strong hitter who can drive in extra runs.
Related Forms:
---
cleanup

Adjective
(not comparable)
(baseball) to bat fourth in the batting order

Jones will be batting cleanup in tonight's game.
---