chiropractor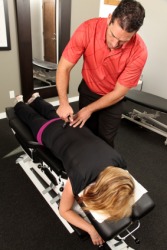 A chiropractor gives a woman an adjustment.
noun
The definition of a chiropractor is a medical professional who attempts to correct back problems and other ailments by adjusting the spine to restore normal nerve function.

An example of a chiropractor is a licensed professional who tries to help with back pain by manipulating the spine to make sure that no bones are out of alignment.
---
chiropractor

Noun
(plural chiropractors)
A health care practitioner who specializes in chiropractic, the hands on or hand-held instrumental movement of the bone structure of the body to improve the function of the joints and/or nervous system.
Origin
From Ancient Greek χείρ (kheir, "hand") + πρᾶξις (praksis, "action, activity, practice")
---