chiropractor
noun
The definition of a chiropractor is a medical professional who attempts to correct back problems and other ailments by adjusting the spine to restore normal nerve function.

An example of a chiropractor is a licensed professional who tries to help with back pain by manipulating the spine to make sure that no bones are out of alignment.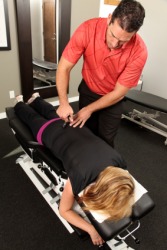 A chiropractor gives a woman an adjustment.
---
chiropractor
Variant of chiropractic
☆
noun
the science and art of restoring or maintaining health, practiced by a licensed professional, based on the theory that disease is caused by interference with nerve function, and employing manipulation of the body joints, esp. of the spine, to restore normal nerve function
Origin of chiropractic
; from chiro- + Classical Greek
praktikos
, practical: see practice