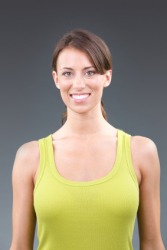 A woman wearing a dress the color of Chartreuse.
A bright greenish yellow color, often associated with a neon or day-glo color.
---
Chartreuse
a yellow, pale-green, or white liqueur made by Carthusian monks
Origin of Chartreuse
after
La Grande Chartreuse
, Carthusian monastery in France
[occas.c-] this liqueur
[c-] a pale yellowish-green color
[c-] of the color chartreuse
---
chartreuse
noun
A strong to brilliant greenish yellow to moderate or strong yellow green.
Origin of chartreuse
After
Chartreuse
Related Forms:
Chartreuse
A trademark for a usually yellow or green liqueur.
---
chartreuse

Adjective
(not comparable)
of a bright yellowish-green colour.
---