centipede

cen·ti·pede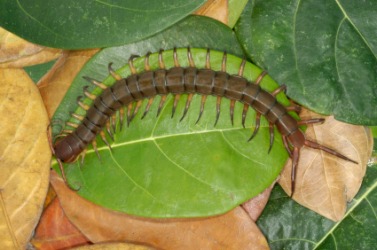 A centipede on a leaf.
noun
The definition of a centipede is an arthropod (a bug) that has a long flat body with many different segments and many legs.

A worm-like bug with many segments and legs is an example of a centipede.
---
centipede
any of a class (Chilopoda) of elongated, many-segmented, insect-eating arthropods with a pair of legs to each segment, the front pair being modified into poison claws
Origin of centipede
French from Classical Latin
centipeda
from
centi-
, centi- +
-peda
from
pes
(gen.
pedis
), foot
---
centipede
noun
Any of various predatory arthropods of the class Chilopoda, having a long flattened body composed of segments, each bearing a pair of jointed appendages. The appendages of the foremost body segment are modified into venomous claws. Also called chilopod .
Origin of centipede
Latin
centipeda
centi-
centi-
pēs
ped-
foot
; see
-ped
.
---
centipede

---