cartilage

car·ti·lage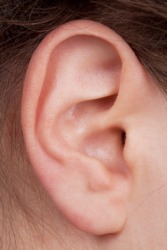 The ear is mostly cartilage.
noun
The definition of cartilage is tough, whitish tissue that is almost fully replaced by bone as someone grows into an adult.

If you get the upper outer part of your ear pierced, the area that you pierce is an example of cartilage.
---
cartilage
tough, elastic, whitish animal tissue; gristle: the skeletons of embryos and young animals are composed largely of cartilage, most of which later turns to bone
a part or structure consisting of cartilage
Origin of cartilage
Middle English and Old French from Classical Latin
cartilago
: for Indo-European base see hurdle
---
cartilage
noun
A tough, elastic, fibrous connective tissue that is a major constituent of the embryonic and young vertebrate skeleton and in most species is converted largely to bone with maturation. It is found in various parts of the human body, such as the joints, outer ear, and larynx.
Origin of cartilage
Middle English
from
Old French
from
Latin
cartilāgō
cartilāgin-
---
cartilage

---