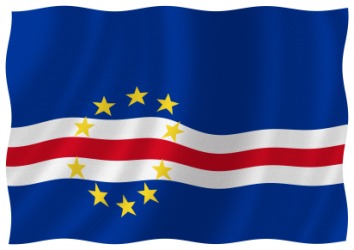 The flag of Cape Verde.
---
Cape Verde
country on a group of islands in the Atlantic, c. 300 mi (483 km) west of Cape Verde (seeCape Verde): the islands were under Portuguese control from 1587 until the granting of independence, 1975: 1,557 sq mi (4,033 sq km); pop. 337,000; cap. Praia
---
Cape Verde
An island country of the Atlantic Ocean west of Senegal. The islands were settled by the Portuguese in the mid-15th century, became a colony in 1495 and an overseas province in 1951, and gained independence in 1975. Praia, on São Tiago Island, is the capital.
Related Forms:
Cape Ver′de·an

adjective

& n.
Cape Verde
---
Cape Verde
Proper noun
Country in Western Africa. Official name: Republic of Cabo Verde.
Usage notes
In October 2013, the government requested that the country be known as Cabo Verde in every language, rather than by partial translations (Cape Verde, Kaap Verde, etc) as had previously been the case. Cabo Verde had already seen some use in English, but continues to be less common than Cape Verde.
Origin
A partial translation of Portuguese Cabo Verde, from cabo (cape) + verde (green).
---