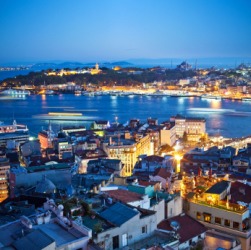 As Constantinople, Istanbul was the capital of the Eastern or Byzantine Empire.
---
Byzantine Empire definition by Webster's New World
empire ( 395-1453) in SE Europe & SW Asia, formed by the division of the Roman Empire: cap. Constantinople
Webster's New World College Dictionary Copyright © 2010 by Wiley Publishing, Inc., Cleveland, Ohio. Used by arrangement with John Wiley & Sons, Inc.
---
Byzantine Empire definition by American Heritage Dictionary
also Eastern Empire
The eastern part of the later Roman Empire, dating from A.D. 330 when Constantine I rebuilt Byzantium and made it his capital. Its extent varied greatly over the centuries, but its core remained the Balkan Peninsula and Asia Minor. The empire collapsed when Constantinople fell to the Ottoman Turks in 1453.
The American Heritage® Dictionary of the English Language, 4th edition Copyright © 2010 by Houghton Mifflin Harcourt Publishing Company. Published by Houghton Mifflin Harcourt Publishing Company. All rights reserved.
---
Byzantine Empire - Cultural Definition
An empire, centered at Constantinople, that began as the eastern portion of the Roman Empire; it included parts of Europe and western Asia. As the western Roman Empire declined, the Byzantine Empire grew in importance, and it remained an important power in Europe until the eleventh century. The Byzantine Empire was conquered by Turkish forces in the fifteenth century.
The Byzantine emperor was an absolute ruler (see absolute monarchy), and the laws and customs associated with his empire were strict and complex. His rule was supported by the Christian Church in the region, which later became the independent Eastern Orthodox Church.
The word

byzantine

is often applied to a group of intricately connected and rigidly applied regulations or traditions, or to a complex bureaucracy that insists on formal requirements.
Constantinople is called Istanbul today.