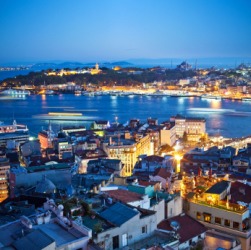 As Constantinople, Istanbul was the capital of the Eastern or Byzantine Empire.
---
Byzantine Empire
empire ( 395-1453) in SE Europe & SW Asia, formed by the division of the Roman Empire: cap. Constantinople
---
Byzantine Empire
also Eastern Empire
An empire of the eastern Mediterranean region, dating from AD 395 when the Roman Empire was partitioned into eastern and western portions. Its extent varied greatly over the centuries, but its core remained the Balkan Peninsula and Asia Minor. The empire collapsed when its capital, Constantinople, fell to the Ottoman Turks in 1453.
---
Byzantine Empire
Proper noun
(historical) predominantly the Greek-speaking continuation of the Roman Empire during Late Antiquity and the Middle Ages with a capital city of Constantinople (modern-day Istanbul), originally known as Byzantium, which fell in 1453
---